Aulterra Whole House Plug
$75.00
The Aulterra Whole House Plug fits into any electrical outlet to retune the wiring. Also, it prevents outside EMFs from getting into the house. One Aulterra whole house plug works for most homes and offices buildings (up to 5,000 sq ft).
Description
Patented, Tested and Proven Technology
The Neutralizer by Aulterra International is the only product on the market with in vitro studies that prove human DNA can be protected from the damaging effects of RF/EMF. It reverses bio-electrical patterns emitted by wiresless phones and blocks 100% of the detrimental effects from EMFs on human DNA. It provides protection from molecular, electrical, and thermal radiation emited from electronic devices. This chart shows before and after EMF fields using the Neutralizer: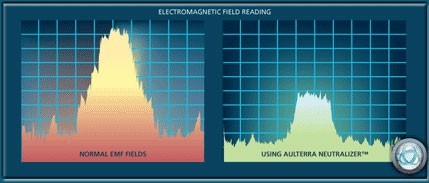 ---
The Whole House Plug
The Whole House Neutralizer plug is intended for use in your home or office. It neutralizes the EMFs coming from all electrical devices plugged into the inside or outside of the home or office and prevents outside EMFs from getting into the house.

It fits into any AC electrical outlet to retune the wiring. It covers up to 5,000 square feet, or 1,524 square meters, depending upon the electrical usage in the space. It can take up to three days to retune the wiring in the building

Your home or office's built in wiring system lets the Whole House Neutralizer power through your space and neutralizes every device plugged into any outlet such as your microwave, television, computer, telephone, refrigerator, etc. It does not use any electricity.
Only logged in customers who have purchased this product may leave a review.