The RF Neutralizer – 3x pack
$30.00
The Neutralizer reduces the effects of harmful radiation from EMF. Includes 1 pack of 3 Aulterra Neutralizer™ discs and 1 brochure.
Description
Patented, Tested and Proven Technology
Aulterra's Neutralizer has proven through in vitro studies to be the only product available to protect human DNA from the harmful effects of EMF/RF radiation. The Neutralizer reverses the bio-electrical patterns emitted by wireless devices and blocks 100% of the detrimental effects caused by EMFs on human DNA. It provides protection from molecular, electrical and thermal radiation emitted from all electronic devices. The chart below shows EMF fields before and after the use of the Neutralizer disc: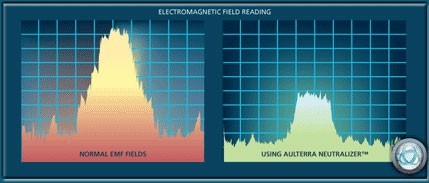 The Only Product that Blocks 100% of the Detrimental Effects from EMFs on Human DNA!
Man-made EMFs have chaotic waves of energy and frequencies making it different from natural EMFs. The man-made EMFs chaotic energy can distort or disrupt organic energy patterns, causing damage to human DNA which is the reason that artificial EMFs are hazardous, disruptive and weakening to cellular metabolism.  This includes 4G and the new 5G cell networks.
Studies like the UC Irvine Experiment have confirmed that The Neutralizer does actually do just that, neutralizes EMFs, making them harmless to our bodies. This is because all particles coexist as waves and waves as particles. It is also a known fact that can neither be created nor destroyed, but can change form. Toxic substances made of subatomic particles that also exist in wave form.
Only logged in customers who have purchased this product may leave a review.